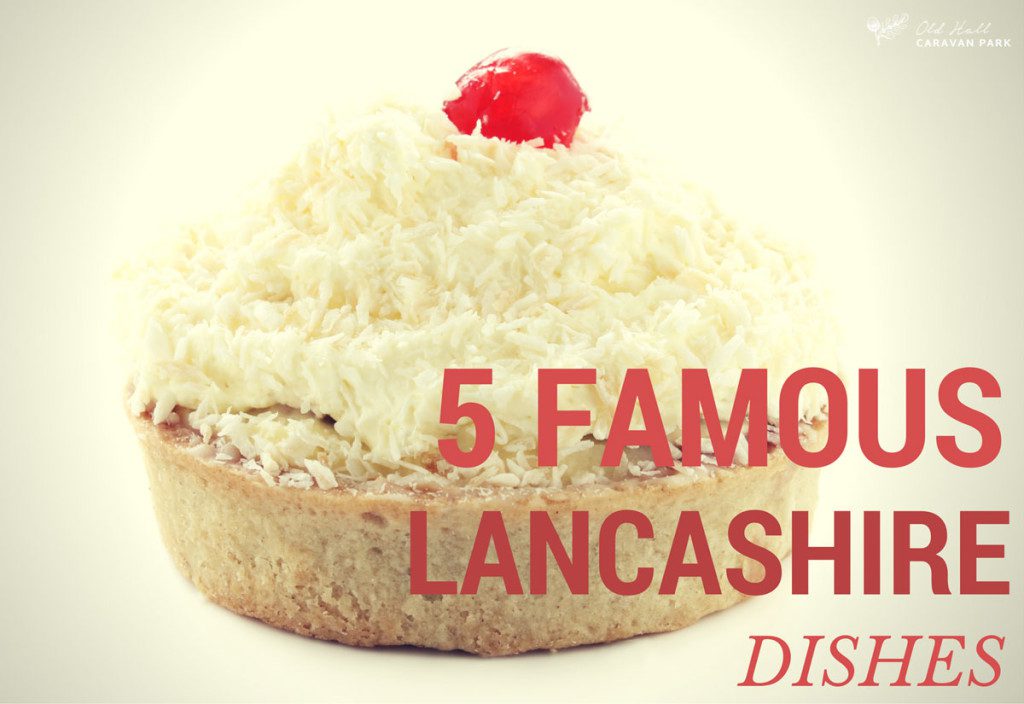 Lancashire's gastronomical delights match the rich history and culture that characterises the county. While being strong representations of the North West diet today, the regional dishes featured in this article are also heavily influenced by tradition. There's something here for everyone, so make sure you visit Old Hall static caravan park in Lancashire on an empty stomach, because there's lots to try. You can find recipes at the bottom of this article for all the dishes mentioned here.
Eccles Cakes (V)
The Eccles cake received its name from the town of Eccles. This sweet cake is a round, crumbly pastry usually filled with currants or raisins, but sometimes other dried fruit is included. Although it is not known who created this fruit-filled pastry, James Birch was the first to sell the cakes commercially in 1793, and you can find them in most bakeries around Britain today. They are also easily available from Tesco.
Eccles cakes are very simple to make, so if you're looking to make the most of your caravan's kitchen, making Eccles cakes could be the fun child-friendly activity for your stay. One of the best things about Eccles cakes is that they can also be eaten on the move, so they're a good snack if you fancy taking a wander on one of Old Hall's woodland walks.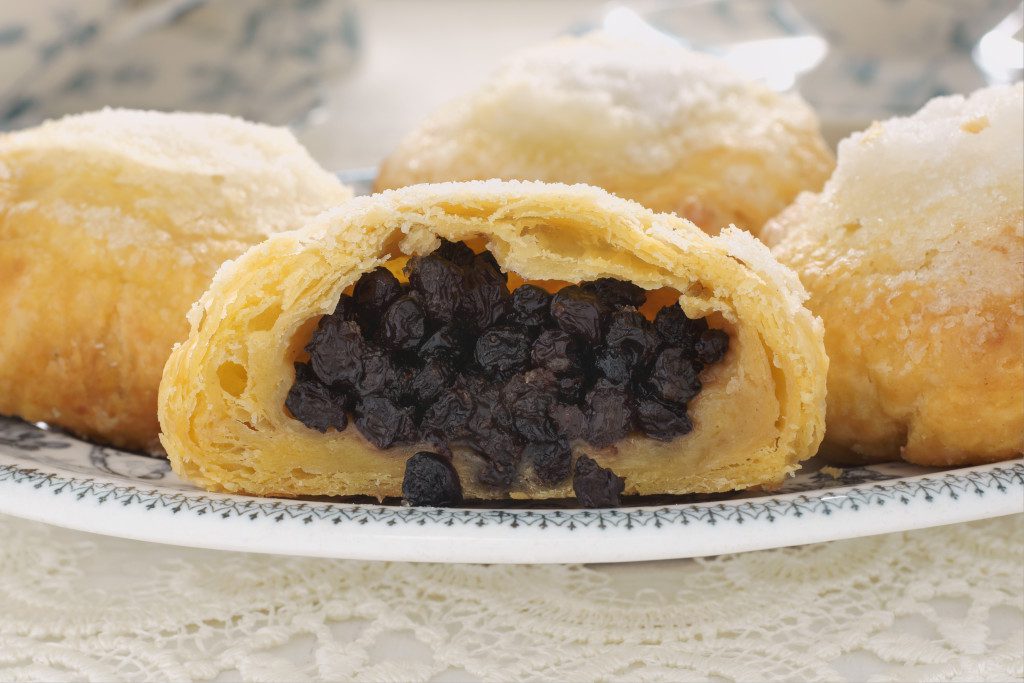 Butter Pie (V)
Contrary to its name's suggestion, Butter Pie is not a pie filled with butter. It's possible that this name comes from the creamy texture of the potatoes and onions that are the main ingredients in this pie. The butter pie was created as a vegetarian dish for Catholic workers who could not eat meat on Fridays, giving rise to its moniker, 'The Friday Pie.' This is a comfort food that reminds us in the North West of home. You might be able to find this dish sold at traditional bakeries around Lancashire.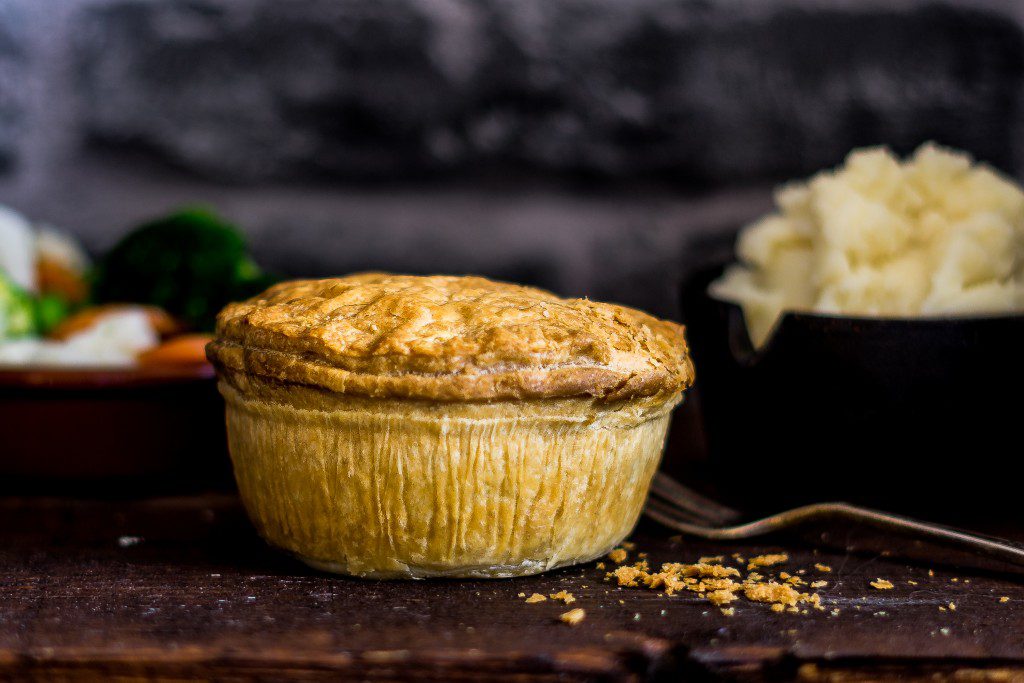 Lancashire Hotpot
One of the most famous dishes in Lancashire and, in fact, the UK, is the hotpot. The ingredients are simple, but they make for a warming and tasty recipe: lamb or mutton, onions and potatoes. This hearty dish originated in Lancashire, and the name comes from the pot it's cooked in. Different regions will add other vegetables as well, like carrots and leeks.
The potatoes are thinly sliced and placed over onions and meat – after a trip to the oven, they become crispy and golden brown! You should be able to spot Lancashire Hotpot being sold in various restaurants around the Lake District, including St. Martins Tea Room & Grill at Bowness-on-Windermere.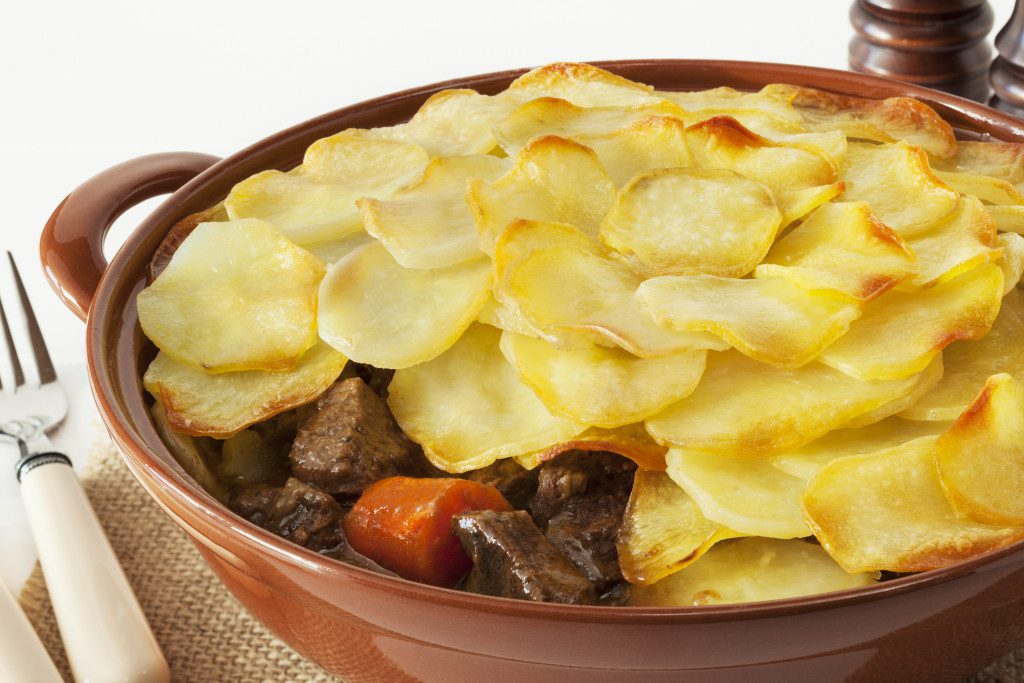 Black Peas (Vegan)
A traditional dish adored by many, black peas are typically eaten on or around November 5th – Bonfire Night. This tasty recipe is made from purple podded peas that are left to dry on the plant. Once they've shriveled up, the peas are picked and packaged. To cook the dehydrated black peas, you have to soak and simmer them overnight. This creates a dish similar to mushy peas. Black peas are commonly served with malt vinegar and salt.
Manchester Tart (V)
Another dish for everyone with a sweet tooth! These tarts were invented in the 1800s and are unique in the way they look, as they can be immediately recognised at a glance, especially because of the Maraschino cherry on top. This shortcrust pastry dessert has a custard filling, spread with raspberry jam. Coconut flakes are added as a finishing touch, but other variations might include cream as well.
You should be able to buy Manchester Tarts in most bakeries around Lancashire, but the convenience chain shop 'Spar', which you can find dotted around Lancashire, also sells Manchester Tarts in sets of two. These tarts are quite messy to eat, so make sure you're sat to a table with a napkin ready!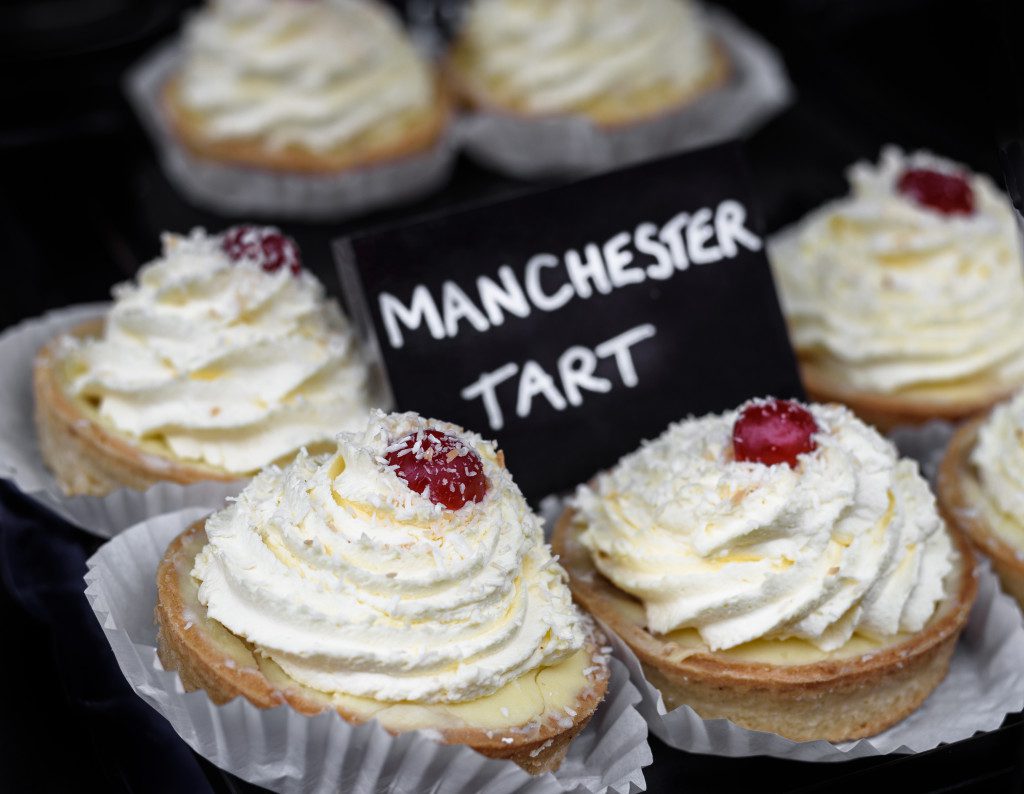 And there you have it! Five delicious dishes that are most popular in the Lancashire region. Our perfectly located touring caravan site in Lancashire, can offer you access to these culinary pleasures, so bring your caravan for a stay in our park, or stay in one of our holiday homes in Lancashire, and enjoy a few relaxing days – or more adventurous ones, if you and your family want to try some adrenaline-filled water activities – trying out Lancashire's delicious food.
Lastly, here are recipe links, so you can try making these dishes at home. Feel free to post pics of your homemade takes on these iconic foods to our Instagram or Facebook page!
1) Eccles Cakes
2) Butter Pie
4) Black Peas