At Old Hall Caravan Park, we understand that everyone has different preferences regarding their holiday accommodation. That's why we offer an excellent range of exceptional holiday homes to suit all needs, all with luxurious and spacious options. Our team is dedicated to providing top-notch service to all our guests, ensuring their stay with us is as comfortable and enjoyable as possible. Discover what makes our range so popular and discover your next investment in your family's future holidays.

Benefits of Choosing One of Our Holiday Homes
Based in Lancashire, we guarantee a serene and peaceful getaway for anyone looking to escape the hustle and bustle of everyday city life. From our park, you'll be greeted with breath-taking views of the Lake District's mountains, Morecambe Bay, and the surrounding Lancashire countryside; you'll never tire of the stunning scenery visible from our range of the finest holiday homes in Lancashire every morning.
Our caravan park in Lancashire has been awarded the David Bellamy Conservation Award for its efforts to enhance the natural environment, and it is approved by the British Holiday Home Parks Association and the AA, among others. At Old Hall, you can enjoy the benefits of a holiday home in Lancashire, including a safe and secure environment, with access to electricity, TV, Wi-Fi, and piped gas to your holiday home.
And with a full 10-year license agreement with new and ex-display holiday homes and a balance of the agreement period with pre-owned homes, you can be sure your investment is protected for years to come. Explore our standard holiday home tariffs and extra charges on our website.
Swift Bordeaux Platinum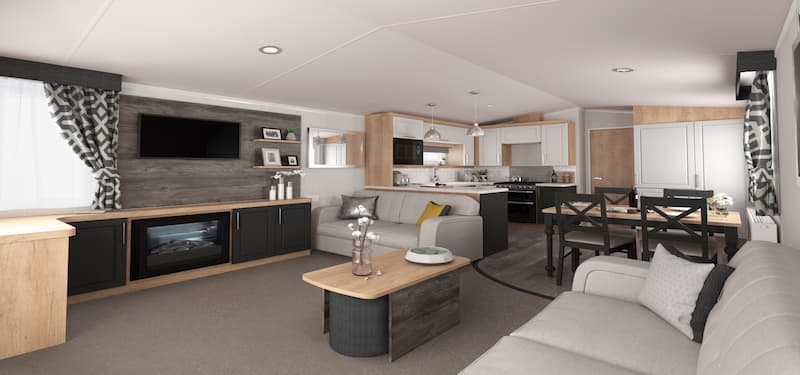 This stunning holiday home boasts a bright, airy living area, a freestanding two-piece suite, a framed fireplace with electric fire, and a sleek coffee table. The open-plan layout flows seamlessly into the well-equipped kitchen, finished with modern touches like soft close cabinets and stylish door handles. And that's not all; this excellent choice comes with many modern additions to ensure your family has everything they need. It includes a dishwasher, a 40″ TV, and a Bose sound system in the lounge, making it the perfect place to relax and unwind after exploring the beautiful countryside.
The Swift Bordeaux Platinum also offers exceptional value at £62,000, including many additional elements, such as central heating, double glazing and more. Feel free to get in touch to schedule a viewing of the 2023 Swift Bordeaux Platinum and see why our static homes and the area are so popular as holiday locations.
ABI Beverley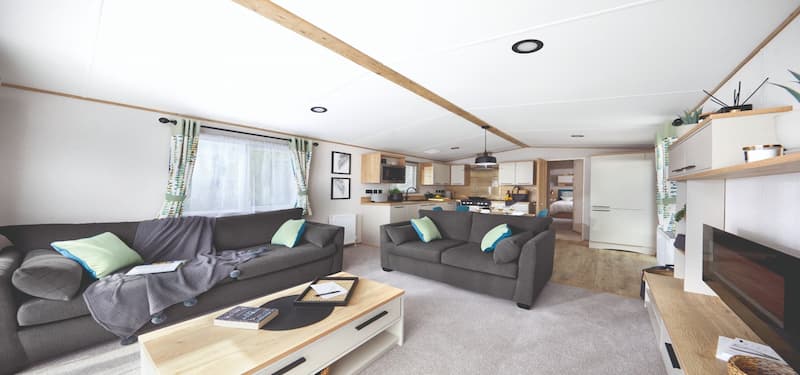 If you're looking for a modern and stylish static holiday home, look no further than the 2023 ABI Beverley. This beautiful holiday home has been updated for the current season with a brand new colour scheme, featuring stylish charcoal freestanding sofas and a splash of blue in the kitchen from the dining room chairs. The open-plan living room and kitchen are separated by a freestanding dining room table, providing a social layout perfect for family get-togethers. And with a beautiful glass splashback behind the cooker hood and stylish light fittings with low-energy bulbs, the ABI Beverley is sure to impress.
The ABI Beverley also includes various features designed to make your holiday experience as comfortable and convenient as possible. For example, there are TV points in the main bedroom and one twin room, and a lift-up bed in the main bedroom to provide additional storage solutions. And with double glazing, patio doors, and central heating all included in the price, you can be sure that you'll stay warm and cosy no matter what the weather is like outside.
At Old Hall, visit our caravan park in Lancashire to see the ABI Beverley holiday home at £63,000 for yourself and start planning your future holidays in this popular staycation location.
ABI St David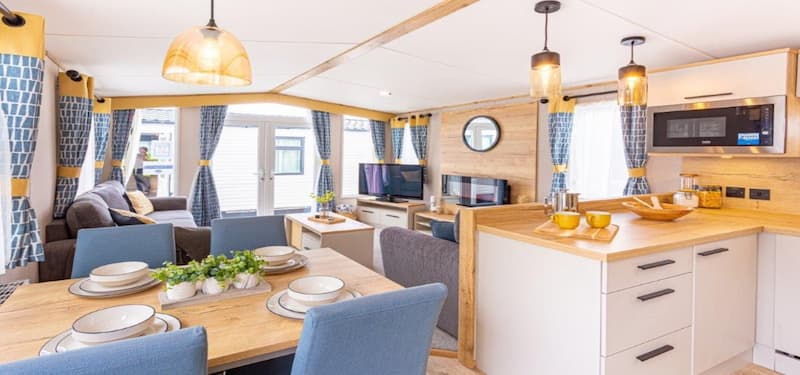 Are you looking for a spacious, modern, static holiday home perfect for family getaways? This stunning holiday home boasts a bright, airy living area with a comfortable L-shaped sofa and stylish electric fire. With an open-plan layout common to our other holiday homes, this great choice has many modern touches, like the sleek breakfast bar, dishwasher, 40″ TV, and Bluetooth sound system. This choice combines the private tranquillity of nature with all the comforts of home, making it perfect for growing families to enjoy for years.
The ABI St David is priced at £59,000, with double glazing, patio doors, and central heating all included. At Old Hall Caravan Park, Contact us today to schedule a viewing of the 2023 ABI St David holiday home and start planning your future summer fun from this excellent choice.
Secure Your Family's Future Holiday Home Today
At Old Hall, we pride ourselves in maintaining a range of the finest holiday homes in Lancashire for people who understand everything the North West offers and want to enjoy it for years to come. Read our associated guide on holiday homes here; alternatively, contact us to discover which of our holiday homes is best for your family.